Substance Use Disorder Clinics
Treat the underlying mental illnesses that lead to addiction.
According to the 2020 National Survey on Drug Use and Health, 40.3 million Americans aged 12 or older had a substance use disorder (SUD) in the past year, up from 19.7 million in 2017. And almost half of these people also suffer from a mental illness. Moreover, according to the CDC, there were more than 100,000 overdose deaths in 2021. The Proem solution can help.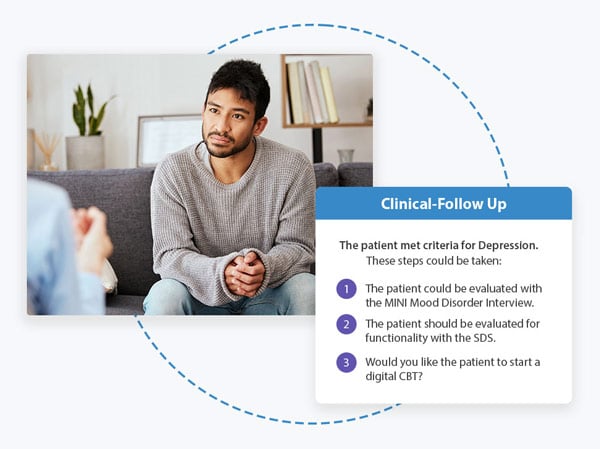 Identifying the Root Cause is Critical to Treatment
When it comes to battling substance use disorder, the question that should be asked of patients is "what are you trying to treat?" But often, substance misuse practitioners only treat the SUD because they lack the tools and resources to treat mental illness. Proem offers a new way to effectively identify, diagnose, treat and monitor substance use disorder and the underlying mental health disorders that often cause people to self-medicate with drugs and/or alcohol.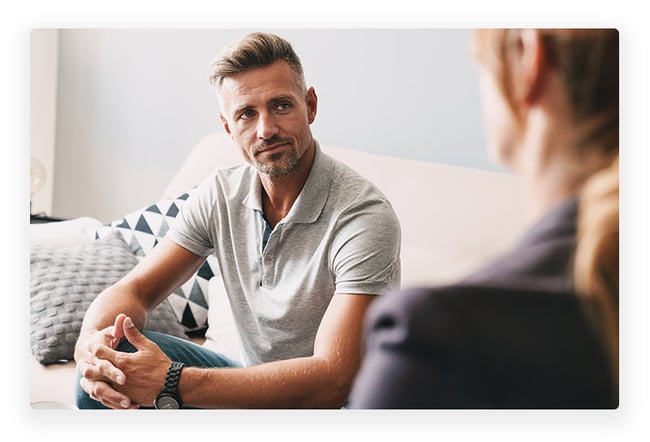 Use One Tool to Assess for Multiple Disorders
A wide range of psychiatric conditions – including depression, anxiety, post-traumatic stress disorder (PTSD) and attention deficit hyperactivity disorder (ADHD) – increase the risk of a SUD. With Proem, substance misuse practitioners can rely on one solution built into their workflow to assess SUDs at the same time as the most common adult and pediatric DSM-5 conditions so they can get to the underlying conditions that may be causing the SUD.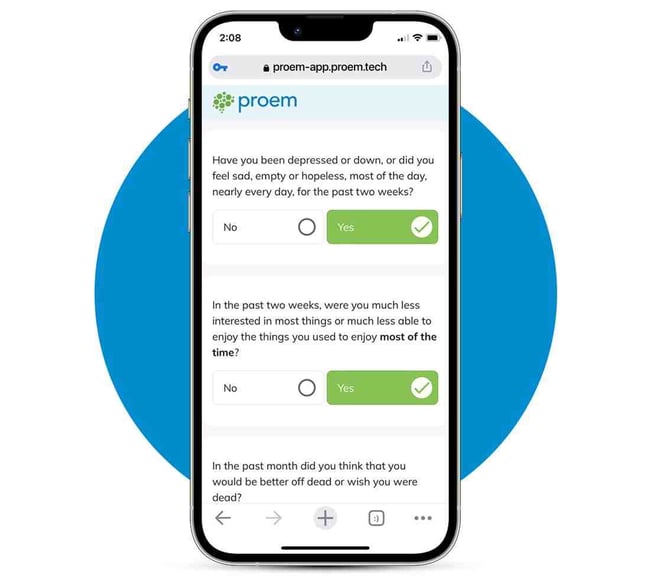 Screen Efficiently with Proven Accuracy
With an 85% accuracy rating, Proem's exclusively licensed digital assessment is proven to help providers make the right diagnosis the first time. For SUD practitioners, this gives peace of mind that they have a comprehensive picture of their patient so they can treat the whole person, not just the drug or alcohol dependence.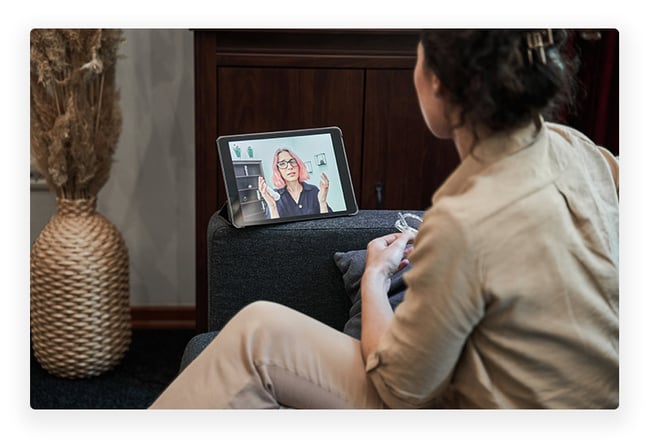 Get Patients to the Right Treatment
Because substance misuse practitioners often lack extensive training in mental health, they need guidance to get their patients to the right resources and ensure SUD treatment doesn't worsen other conditions. The Proem solution guides practitioners to the "next steps" for treatment based on presence and severity of symptoms to help patients with their SUD and mental illness if present.
How It Works
A Flexible Platform to Support the Mental Health Wellness Journey
eBook
A Better Way to Approach Mental Health Screening
Learn about the common issues with today's widely used tools and what to look for in a new behavioral health assessment solution.
How We're Different
Helping the Whole Person, Not Just Treating the SUD
For patients who have a substance use disorder to truly get better, identifying and treating the root cause is paramount. The Proem solution makes it easy to diagnose mental illnesses that are contributing factors to a patient's drug and alcohol use so treatment plans can be holistic.
Evidence-based measurements and scales fit within the SUD practitioner's workflow.

Multi-dimensional screeners and assessments evaluate multiple mental illnesses to identify root causes of substance use.

Outcome and severity measurement tools help practitioners adjust treatments that aren't working or continue those that are working.

Data collected at every step of the process provides the documentation needed to demonstrate verifiable patient outcomes.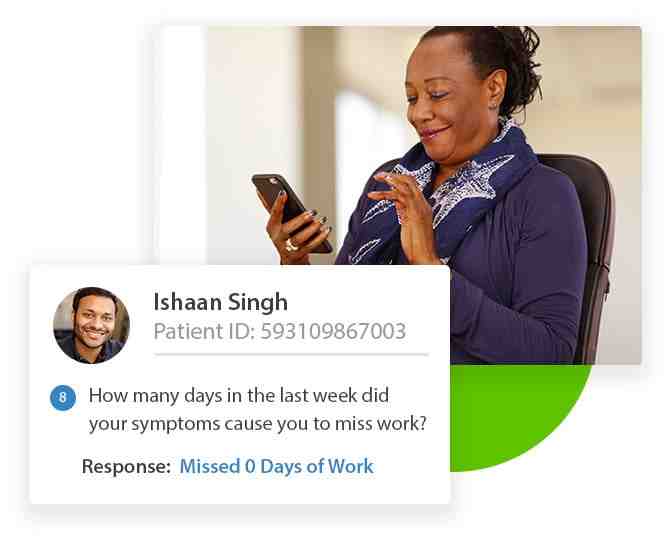 Testimonials
What People Say About Us
At PMC, we are always working to identify the most effective ways to deliver optimal outcomes to our patients. Through our partnership with Proem, we gain access to a powerful platform that will help strengthen the services we provide to program participants and better ensure the success of our new initiatives.
Stephanie Weatherly, DNP, PMH RN-BC, FACHE
Chief Clinical Officer
Psychiatric Medical Care (PMC)
When it comes to evaluating individuals with complex conditions, it is important that we use evidenced-based resources such as Proem's licensed digital diagnostic interview to accurately and precisely diagnose the specific condition or conditions that are driving the behaviors or presenting concerns. The specificity of the questions and the intuitive algorithms make it ideal for the type of work we do.
J. Todd George, PshD
Atlanta Psychological Services
One of our primary goals at IQVIA is to incorporate the very best behavioral health technologies into our digital eCOA solutions to better serve our large base of customers. We are pleased to be working with Proem. Their depth and breadth of products and knowledge in the field of behavioral health is extremely impressive and much needed.
Kris Gustafson
Vice President of Patient Centered Technologies
IQVIA
With Proem, we are able to bill and be reimbursed for administering two tests in 30 minutes – the screener and assessment. Using Proem to bill for CPT codes 96136 and 96138 has created a new revenue stream for the practice.
Karen Gore-Brown, MHA, MBA, ACHE
Administrator
Frisco Primary Care
One mission. Two ways.
At Proem Behavioral Health, our mission is to ease the pain of mental illness by helping healthcare providers and clinical researchers help more people. We do that in two ways: through our comprehensive software platform and our exclusively licensed digital mental health assessments.
The Proem Platform
Experience workflow efficiencies, consistent processes and documented outcome measures with a digital behavioral health assessment platform.
Gold-standard Measurements
Just need access to the best mental health assessment tools available to help screen, diagnose and/or monitor patients or trial/study participants?