Our Solution
Proem's evidence-based behavioral health workflow engine uses interconnected, gold-standard measurements and proprietary algorithms to simplify the complex process of delivering mental healthcare. It's a fresh new way for providers and researchers to get the data they need to make more informed clinical decisions that produce better outcomes for their patients who suffer from mental illness.
Watch an Overview
The Status Quo No Longer Works
Outdated Screeners
Using single-dimensional screeners such as the PHQ9 and GAD7, which were not intended for diagnosis, leads providers to misdiagnose major depressive disorder 65.9% and generalized anxiety disorder 71% of the time.
No Consistent Process
In all other areas of healthcare there is a well-defined process or protocol for diagnosing and treating illness. In mental health, there is no such consistent or comprehensive process to guide providers through evidence-based care.
Manual Evaluations
Manual and paper-based mental health evaluations often introduce bias and inconsistency among providers and therapists, leading to variations in care even within the same disorder.
Diagnosis Problems
Misdiagnosis, under-diagnosis, and non-diagnosis waste time and money for providers and are costly to patients who may wait as long as 11 years for a correct diagnosis.
Complicated Workflow
Having a library of separate screener and interview tools is disjointed and complicates provider workflow.
Lack of Follow-Up
Without the ability to easily follow up with patients, many providers and organizations simply have no idea if a patient gets better and have no way to collect data needed for compliance, measurement-based care and quality improvement.
How It Works
Proem Helps Tackle Mental Illness One Step at a Time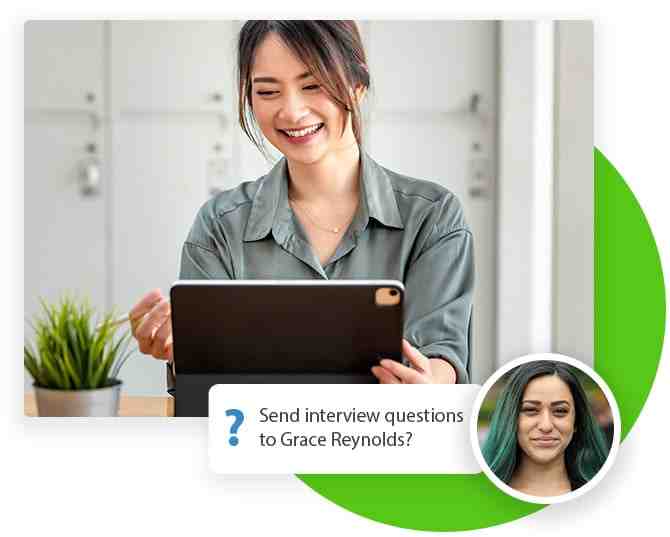 Enable fast, accurate diagnoses of multiple mental illnesses at one time.

Simplify the process of screening, interviewing, treating, and monitoring patients with one solution built into existing workflows.

Easily integrate mental health data by connecting to electronic health record and other enterprise systems through API interoperability.

Use clinical follow-up suggestions to direct patients to appropriate resources so patients get on the right path to improvement the first time.

Collect objective, unbiased data to support measurement-based care, value-based reimbursement, and organizational improvements.
Modern User Interface
An elegant display guides users through the screening and assessment process making it easy to collect and use data to make the right diagnosis and treatment plan.
Gold-Standard Measurements
Proem comprises multiple measurement described by real Proem users as the gold standard in behavioral healthcare.
Single Sign-on
Users can sign onto the Proem solution as part of their enterprise application.
Provider Dashboard
Upon login, providers are presented with a dashboard of their patient populations and are alerted to those who may be suicidal.
Patient-level Detail
Quickly see the status of screeners, interviews and monitors for an individual patient and start a new measurement in one click.
Clinical Follow-Up
Proprietary to Proem and configurable by client, clinical follow-up activities are presented based on patient answers and providers can accept or decline the suggestions.
Patient Reports
View, download, delete or edit interview reports and view the patient's longitudinal report for trending and analysis.
Mobile Platform
As a web-based product, users can access Proem anytime, anywhere on any device, easily supporting telehealth and remote care options.
Adaptive Web Design
Proem features adaptive and responsive web design to dynamically size the display to whatever device the user is using.
Multiple Languages
Proem is available in multiple languages to support deployment worldwide.
How We're Different
Making Accurate Diagnosis Easy
The Proem solution and supporting tools are a simpler way to get the right answers at the right time to enable the right mental health outcomes.
Gold-standard measurements and scales provide confidence when making a diagnosis.

Multi-dimensional screeners and assessments consider comorbidities for better treatment.

Outcome and severity measurement tools demonstrate that therapies are working.

Data collected and documented at every step supports measurement-based care and value-based reimbursement.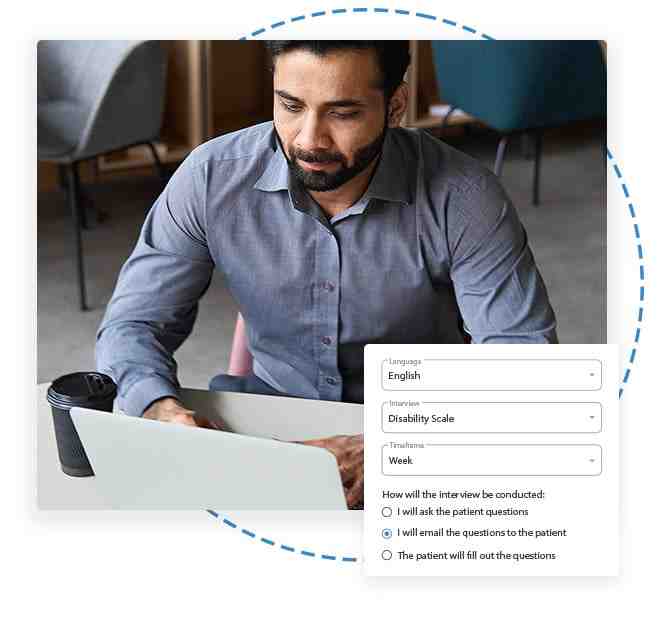 Testimonials
What People Say About Us
At PMC, we are always working to identify the most effective ways to deliver optimal outcomes to our patients. Through our partnership with Proem, we gain access to a powerful platform that will help strengthen the services we provide to program participants and better ensure the success of our new initiatives.
Stephanie Weatherly, DNP, PMH RN-BC, FACHE
Chief Clinical Officer
Psychiatric Medical Care (PMC)
When it comes to evaluating individuals with complex conditions, it is important that we use evidenced-based resources such as Proem's licensed digital diagnostic interview to accurately and precisely diagnose the specific condition or conditions that are driving the behaviors or presenting concerns. The specificity of the questions and the intuitive algorithms make it ideal for the type of work we do.
J. Todd George, Psy.D
Atlanta Psychological Services
One of our primary goals at IQVIA is to incorporate the very best behavioral health technologies into our digital eCOA solutions to better serve our large base of customers. We are pleased to be working with Proem. Their depth and breadth of products and knowledge in the field of behavioral health is extremely impressive and much needed.
Kris Gustafson
Vice President of Patient Centered Technologies
IQVIA
With Proem, we are able to bill and be reimbursed for administering two tests in 30 minutes – the screener and assessment. Using Proem to bill for CPT codes 96136 and 96138 has created a new revenue stream for the practice.
Karen Gore-Brown, MHA, MBA, ACHE,
Administrator
Frisco Primary Care
Featured Resources
Helpful Content for Evaluation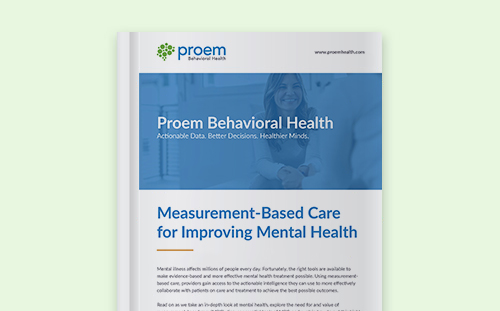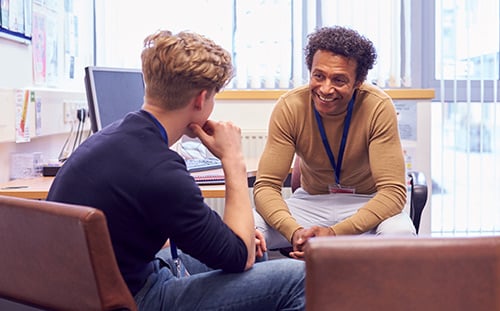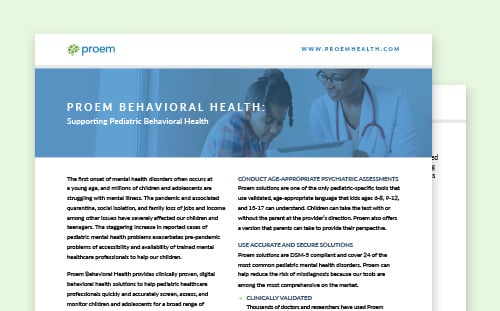 Based on research. Proven in real life.
The Proem solution is built on tools used in behavioral health research for over 25 years and proven in clinical use today. Learn how Proem can help your organization better treat mental illness.