Academic Research
Select the right study participants, quickly and effectively.
Getting your research project off on the right foot depends on including the right participants and excluding the wrong ones. Proem's licensed digital mental health screening and assessment tools help researchers increase the accuracy of participant identification. And results are scored within minutes, drastically decreasing the time needed for recruitment.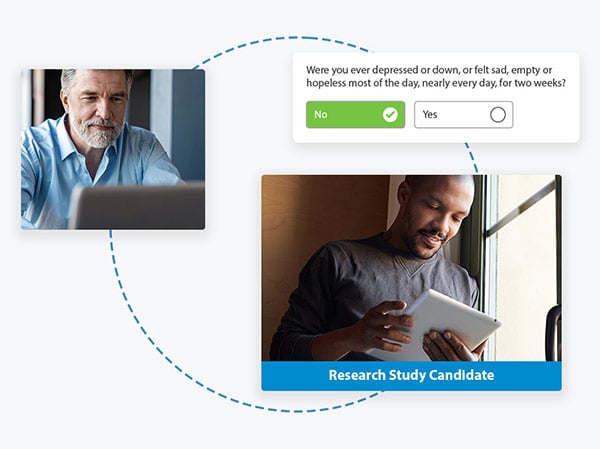 A few of our licensed digital tools include:
Mini International Neuropsychiatric Interview (M.I.N.I.)

M.I.N.I. Kid

Sheehan Disability Scale (SDS)

Yale-Brown Obsessive Compulsive Scale (YBOCS)

Body Dysmorphic Disorder Questionnaire (BBDQ)

And more...
Rely on the Most Trusted Scales in Research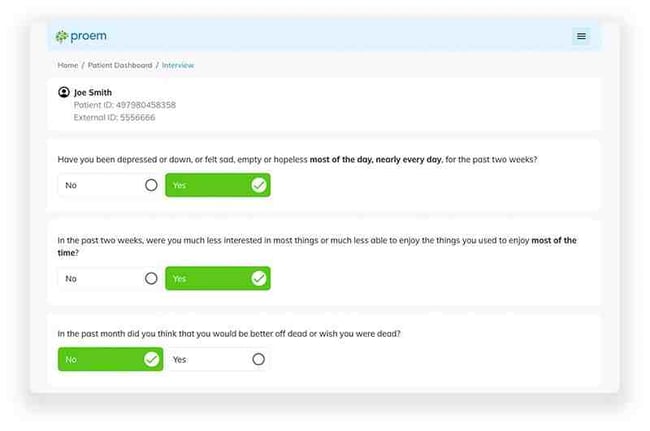 Gold-Standard Scales Help Accurately Identify Candidates
Proem is the exclusive digital licensee worldwide of clinically validated scales written by world-renowned psychiatrists to screen for the most common DSM-5 mental health disorders. The Proem licensed solution scales, including the Mini international Neuropsychiatric Interview (M.I.N.I.), SDS, S-STS, YBOCS I&II, CYBOCS I&II, BDDQ, and others, are used to accurately identify underlying conditions in study candidates that can materially impact study time and risk.
Thousands of Citations Provide Safety in Numbers
The tools that Proem has licensed have been cited in more than 175,000 articles and used in worldwide studies reviewed by the FDA, National Institutes of Health (NIH), National Institutes of Mental Health (NIMH), World Health Organization (WHO), European Pharmaceutical Associations, and Federation of Asian Pharmaceutical Associations.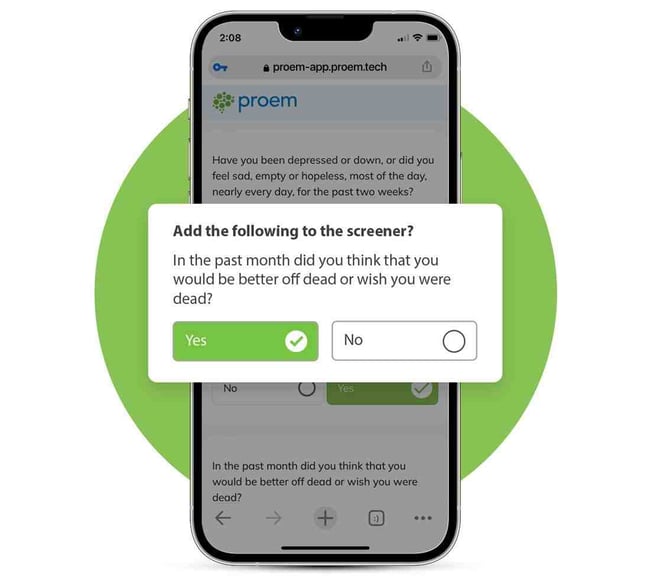 Customize the Proem Tool to Match Your Study Subject
The Proem solution is adaptable, enabling researchers to tailor the screeners and assessments to their studies. This makes it faster for participants to complete the assessments, thereby decreasing the time to identify candidates.
Solution
Proven Digital Tools for Research Study Participant Selection
Proem's software platform features exclusively licensed digital tools that have been used by academic research organizations worldwide to increase the accuracy of participant identification and decrease the time needed for patient recruitment. Using digital mental health screeners and assessments for inclusion/exclusion criteria offers multiple benefits over paper-based tools.
Track Outcomes
Using one digital tool, Proem can evaluate the participant for the most common DSM-5 mental disorders at one time, eliminating the need to use multiple, time-consuming tools.
Increase the Accuracy of Patient Identification
Proem's digital tools automatically dig deeper into specific disorders or skip a disorder altogether based on how the person answers each question. This capability helps gather more accurate screening data for more reliable results.
Remove Bias
Proem's digital tools can guide a researcher or participant through interview questions in a structured way that leaves no room for interpretation or manipulation. Removing rater bias can help decide whether to include or exclude a person from a research study.
Save Time/Improve Efficiency
Digital screeners and interviews can be sent to participants to complete electronically at their convenience rather than in person, improving patient compliance and saving time. Participants also may be more truthful when answering questions on their own.
Mitigate Errors
Complex paper assessments are difficult to score and lend themselves to human error. Proem's digital solution automatically scores assessments in a matter of seconds, mitigating scoring errors and helping ensure accurate results in near real-time.
Collect Data
Proem's digital behavioral health screening and assessment solution can track participants during a study to automatically aggregate and measure outcomes to assist with publishing study findings.
Proem Behavioral Health is the exclusive licensee of Dr. David Sheehan's behavioral assessment tools in digital, electronic and pdf format and is authorized to sublicense that right to third parties. Proem Behavioral Health maintains concurrent rights to distribute or license paper forms of the Sheehan Technology.
Proven Tools
Evidence-based Measurements Backed by Years of Research
The Proem platform is built using digital versions of tools that are exclusively licensed from the top psychiatric professionals in the behavioral health field, including Dr. David Sheehan, Dr. Wayne Goodman, Dr. Eric Storch, and Dr. Katharine Phillips, among others. These tools include the Mini International Neuropsychiatric Interview (M.I.N.I.), Yale-Brown Obsessive Compulsive Scale (YBOCS), Body Dysmorphic Disorder Questionnaire (BDDQ), and more, and have been validated through research and used in clinical practice for many years worldwide.
175K+
Times Proem Licensed Tools Cited in Industry Publications
700+
Times Dr. Sheehan's Tools Used in Clinical Research Studies

Study: Partners in Caring for Anxious Youth, funded by Patient Center Outcomes Research Institute.
The study is a clinical trial comparing the effectiveness of evidence-based treatments for child and adolescent anxiety. The study compares the use of cognitive behavioral therapy (CBT) alone to CBT plus medication treatment to see which is more effective at achieving anxiety symptom remission and functional improvement at 6 and 12 months. Proem licensed digital assessments are being used to eliminate bias when selecting patients for the study.

Study: The Australian Child Maltreatment Study.
This study uses data gathered from Proem licensed digital assessments to study 8,500 Australians who experienced child abuse and neglect in their childhood and adolescence to examine associations with a wide range of physical and mental health outcomes. The study is one of the most comprehensive studies on child maltreatment ever conducted and is intended to inform policy and practice reforms to reduce child abuse and neglect in Australia.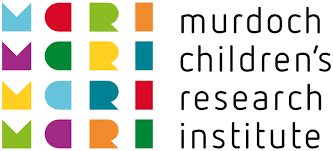 Study: The Childhood to Adolescence Transition Study.
This study uses the Proem licensed digital child assessment to gather data for a longitudinal study of children as they move into high school and through adolescence to understand the many influences on the health and emotional adjustment of children as they approach their teens. This is the first study in Melbourne to look at a population sample of children with this focus.
Frequently Asked Questions
How will this change my workflow?
Proem digital tools can help researchers more accurately and efficiently recruit study participants by reducing bias and scoring errors. Proem digital tools can also help identify co-morbidities that may negatively affect trial outcomes if not initially identified.
Will this add time to candidate recruitment?
Proem digital tools will decrease the amount of time needed to recruit trial candidates as the assessments are automatically scored and results are available within minutes of completion of the assessment.
One of the more commonly used Proem tools, the M.I.N.I., assesses the 17 most common adult disorders, and the assessment can be configured to use only the modules needed for a particular study. This saves the researcher time as multiple assessments are not necessary for candidate recruitment.
What is the cost? Why do I have to buy this at all?
The cost ranges from $4 to $15 per screener or assessment depending on the tool and number purchased plus a small one-time implementation fee if using the Proem platform. Proem licenses the tools that it digitizes and distributes via its platform from world-renowned psychiatrists and psychologists who authored and maintain the tools. Therefore, there is a cost associated with the tools.
One mission. Two ways.
At Proem Behavioral Health, our mission is to ease the pain of mental illness by helping healthcare providers and clinical researchers help more people. We do that in two ways: through our comprehensive software platform and our exclusively licensed digital mental health assessments.
The Proem Platform
Experience workflow efficiencies, consistent processes and documented outcome measures with a digital behavioral health assessment platform.
Gold-standard Measurements
Just need access to the best mental health assessment tools available to help screen, diagnose and/or monitor patients or trial/study participants?