Behavioral Health
Offering one of the most validated sets of behavioral health assessment tools available, the Proem solution helps behavioral health providers, specialists and therapists more accurately and consistently identify, diagnose and monitor mental illness. With Proem, providers can deliver better mental health care with verifiable patient outcomes.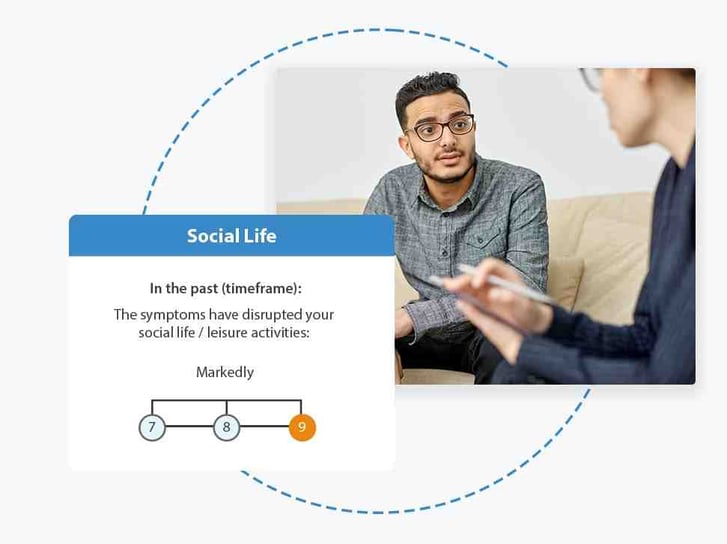 Proven in Research, Built for Real Life
The Proem solution comprises the most often cited mental health screeners and assessments, used for more than 25 years in clinical and academic research in over 100 countries. As a behavioral healthcare provider, you can use the same tools trusted by the world's largest clinical trial organizations, pharmaceutical drug manufacturers, and academic research institutions when assessing your patients every day.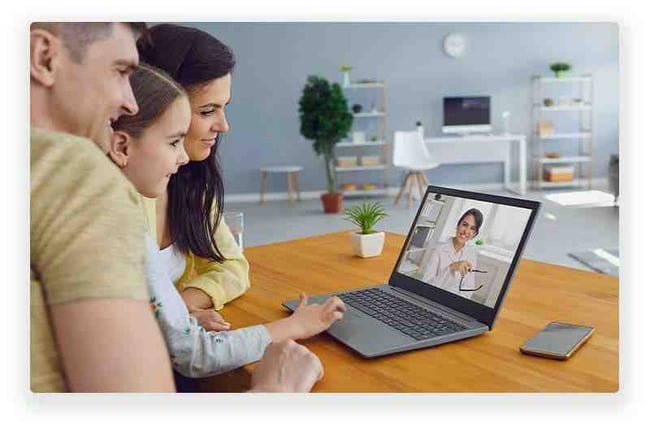 Diagnose Efficiently with Greater Certainty
With hundreds of thousands of assessments completed and an 89% accuracy rating that only the SCID-5 can match, the digital Proem solution gives providers peace of mind that they have the data they need to make the right diagnosis the first time. Actionable data leads to better decisions, saving providers time, behavioral health care organizations money, and patients' frustration.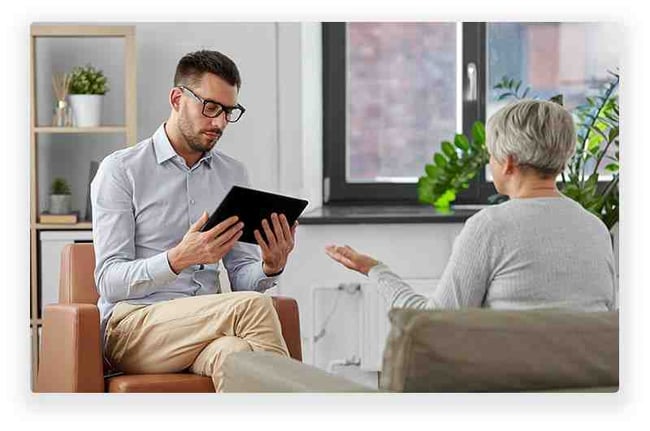 Use One Tool to Assess Multiple Conditions
Many tools used today to assess mental illness just look at one condition at a time, and providers often must choose from a large library of disjointed screeners and assessments. With Proem, providers can rely on one solution built into their workflow to assess for the most common adult and pediatric DSM-5 conditions, reducing inherent bias, assessing for co-morbidities, and getting to the root causes.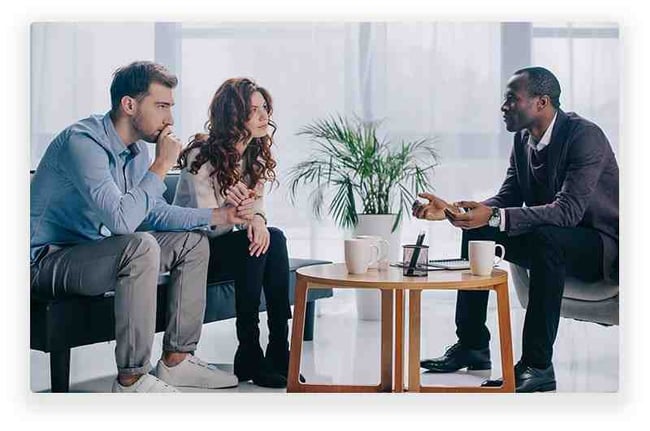 Measure Outcomes for Value-Based Care
The ability to deliver value-based care has been hampered by the lack of clinically reliable and easily accessible screening and diagnostic solutions that cover a broad spectrum of behavioral disorders. The inability to adequately track patient outcomes has also led to poor follow-up and coordination of services. The Proem solution addresses these challenges. Read on to learn how.
How It Works
Easing the Pain of Mental Illness One Step at a Time
1 Quickly Identify Multiple Mental Health Conditions
Proem digital screeners can be completed in just three minutes before an appointment at the patient's convenience or in a care setting based on preferred workflow. The screeners help quickly and accurately identify people who need further evaluation, catching mental illness and identifying comorbidities early on.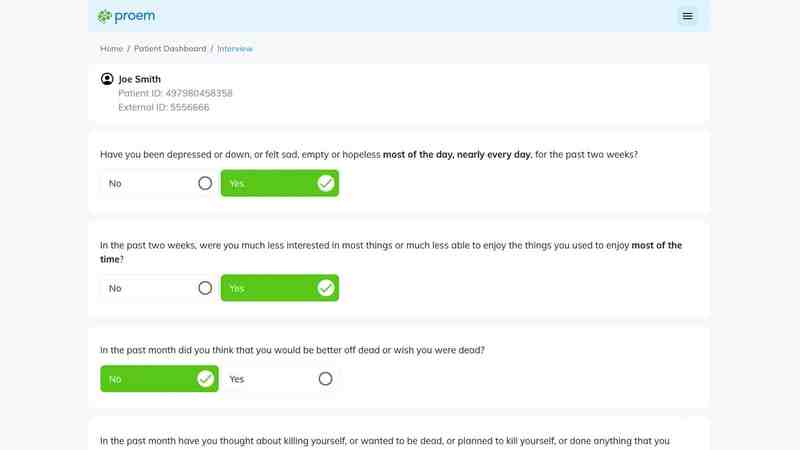 2 Make the Right Diagnosis the First Time
Proem provides the world's leading, clinically validated, structured assessment interviews in digital format exclusively licensed from the top psychiatric professionals in behavioral health. Proem structured interviews are used by researchers and healthcare providers to make fast and accurate diagnoses so their patients get on the path to wellness more quickly.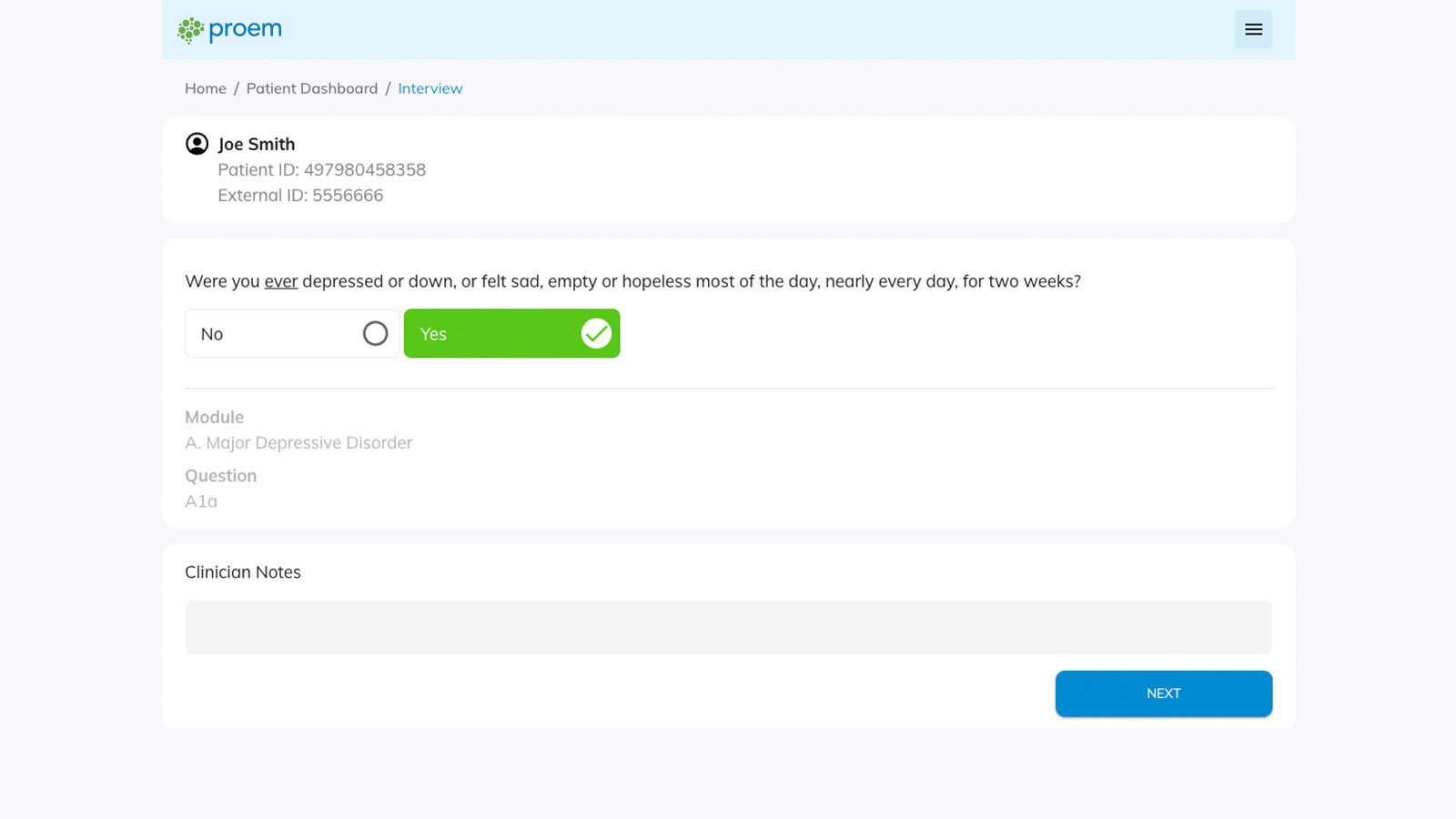 3 Direct Patients to the Resources they Need
Once a provider makes a diagnosis, knowing what to do next with a patient can be challenging. Proem's proprietary clinical follow-up technology takes the guesswork out by suggesting activities as defined by providers that a patient can complete as part of treatment, such as online cognitive behavioral therapy, educational content or regularly timed symptom and severity measurement surveys.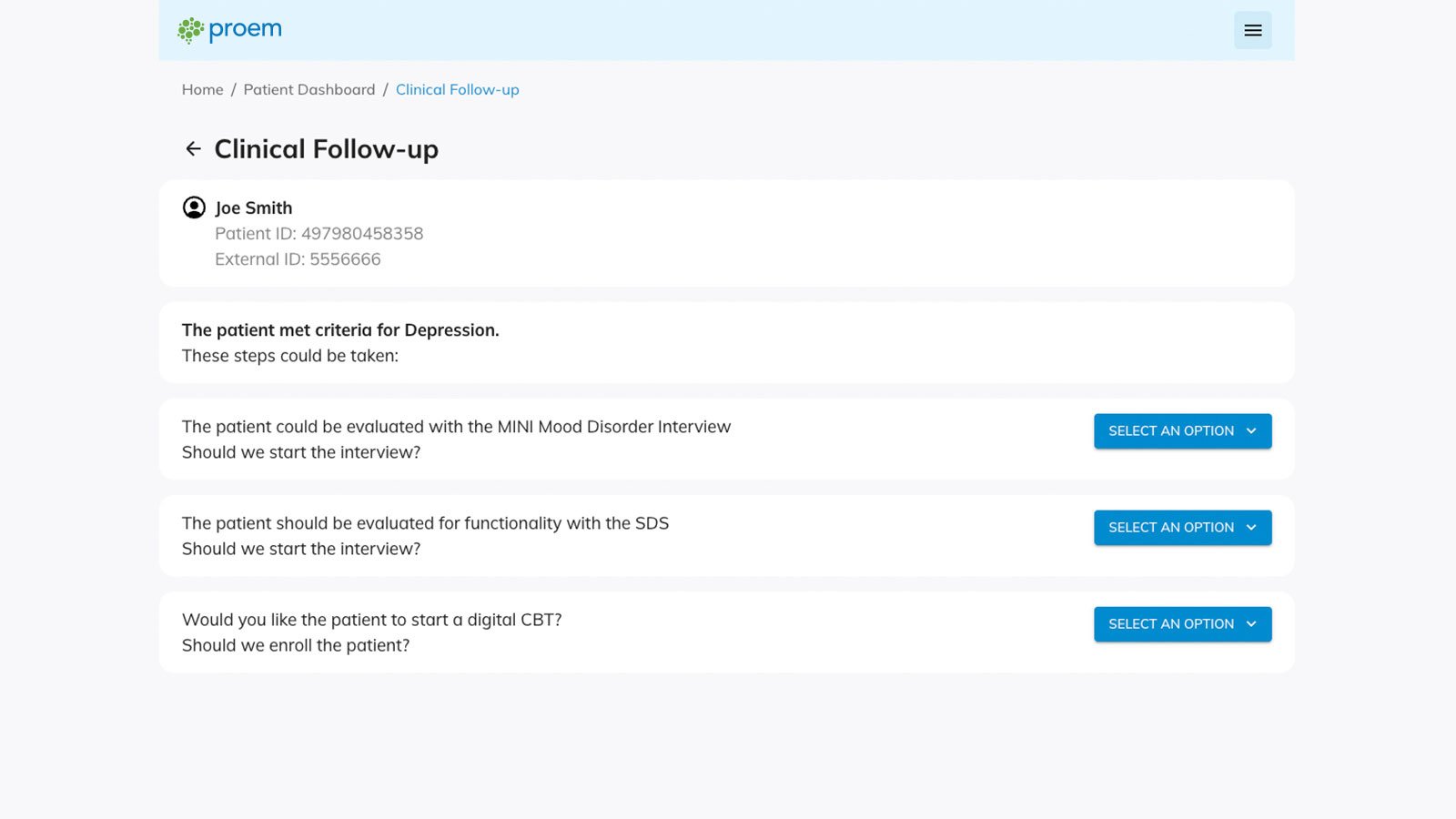 4 Track Patient Progress and Improvement in Function
With Proem monitors and severity measurement scales, providers and researchers can gather structured patient data on a daily, weekly or monthly basis. This data is used to check the status of symptoms and assess the impact on a patient's ability to function at work, school and life, enabling proactive treatment changes and measurement-based care.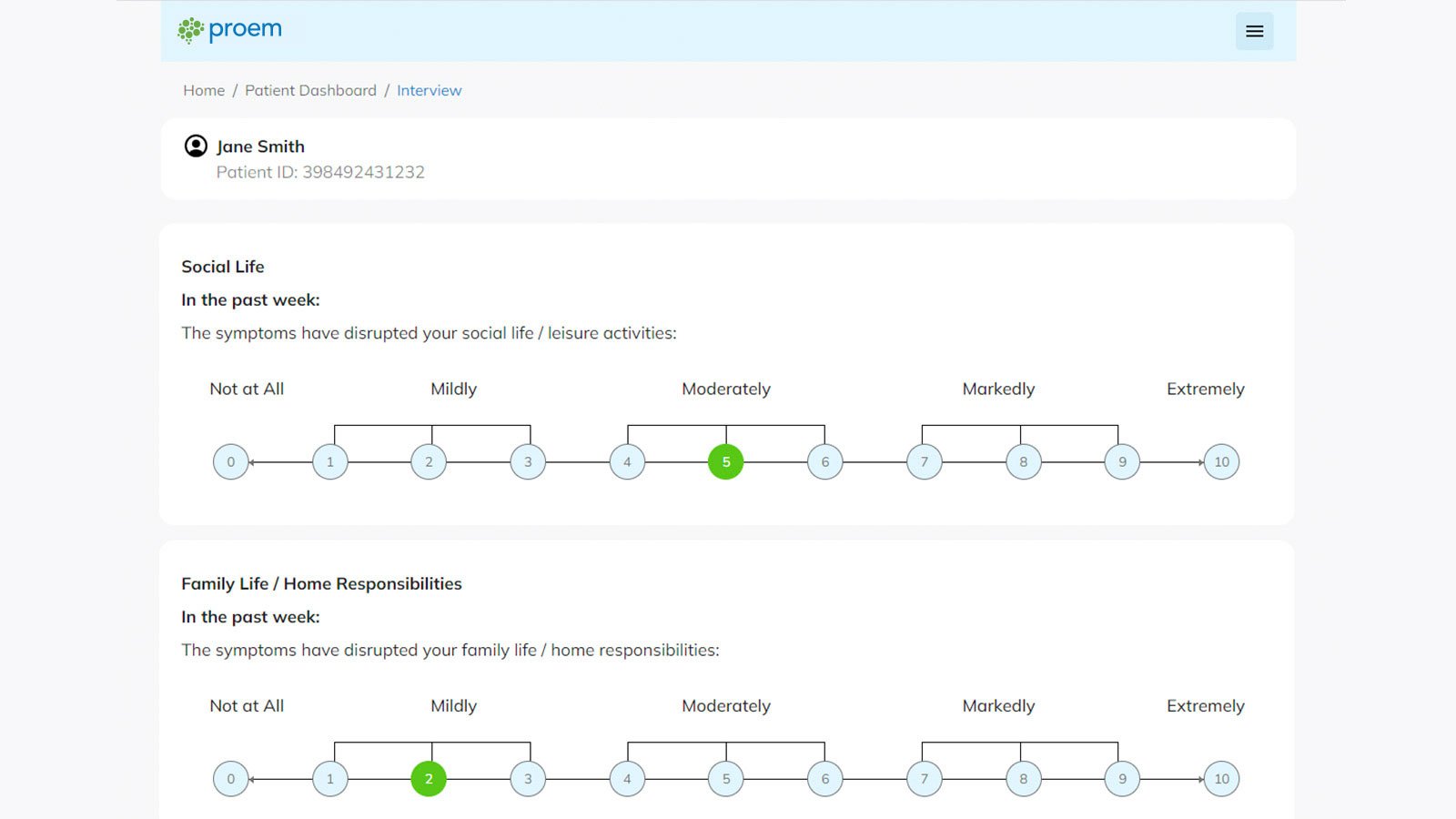 How We're Different
Taking Mental Health Care to the Next Level
A cardiologist wouldn't diagnose a patient with hypertension without taking the patient's blood pressure. So why diagnose a mental illness without first screening and then assessing what is really going on with a patient's mental health? The Proem solution makes it easy to treat mental health in the same way as doctors treat physical health.
Evidence-based measurements and scales fit within the behavioral healthcare provider's workflow.

Multi-dimensional screeners and assessments go beyond depression and anxiety to uncover the underlying causes of a patient's mental illness.

Outcome and severity measurement tools help behavioral health providers adjust therapies that aren't working or continue those that are working.

Data collected at every step of the process provides the documentation needed to demonstrate verifiable patient outcomes.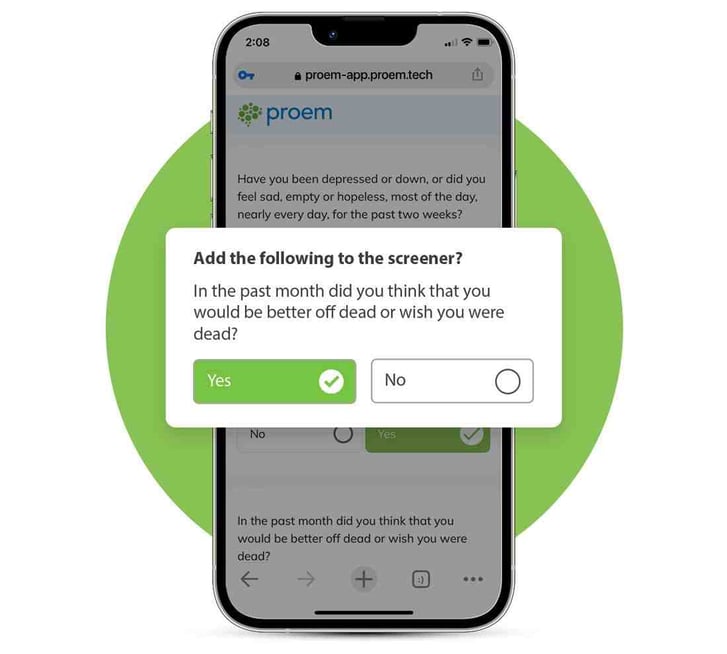 Testimonials
What People Say About Us
When it comes to evaluating individuals with complex conditions, it is important that we use evidenced-based resources such as Proem's diagnostic interview to accurately and precisely diagnose the specific condition or conditions that are driving the behaviors or presenting concerns. The specificity of the questions and the intuitive algorithms make it ideal for the type of work we do.
J. Todd George, PshD
Atlanta Psychological Services
One of our primary goals at IQVIA is to incorporate the very best behavioral health technologies into our digital eCOA solutions to better serve our large base of customers. We are pleased to be working with Proem. Their depth and breadth of products and knowledge in the field of behavioral health is extremely impressive and much needed.
Kris Gustafson
Vice President of Patient Centered Technologies
IQVIA
Proem has become a gold standard in my practice because it helps achieve a greater degree of patient disclosure and has a high level of specificity and sensitivity in evaluating psychiatric disorders. It helps in several vital ways: by encouraging patient disclosure, identifying if multiple disorders are an issue and providing additional perspectives that can enhance the quality of outcomes.
Leonard A. Lado, MD
Lado Healing Institute
Featured Resources
Helpful Content for Evaluation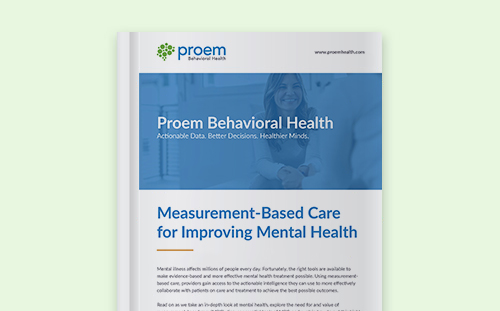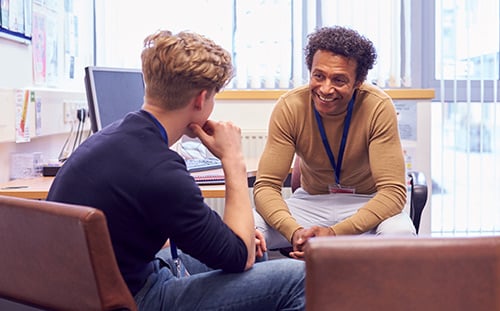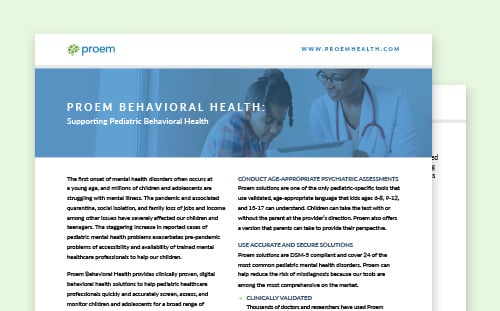 Give Your Patients the Mental Health Care They Deserve
Proem solutions can help you get to the root cause of your patient's mental illness so you can get the best possible outcomes.