Pediatrics
The peak age of onset for mental disorders is 14.5 years with nearly 50% of lifetime mental illnesses taking root by the age of 18, and 62.5% by the age of 25, according to a meta-analysis of 192 studies. Proem electronic solutions allow pediatric care providers to quickly and accurately screen, assess and monitor children to enable early diagnosis and treatment.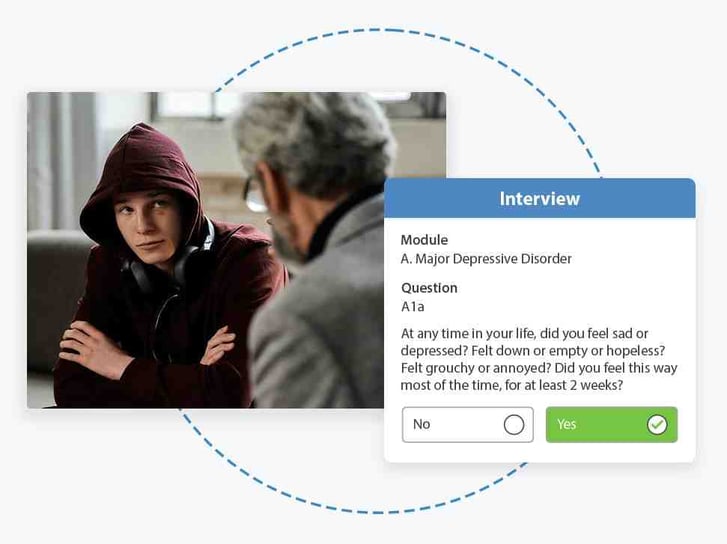 Making it Easy to Help Pediatric Patients
with their Mental Health
The average time from onset of the first symptom to correct mental illness diagnosis is approximately 11 years. Proem solutions give pediatric care providers the tools they need within their workflow to accurately screen and assess children starting at the age of 6, helping providers and parents avoid future complications.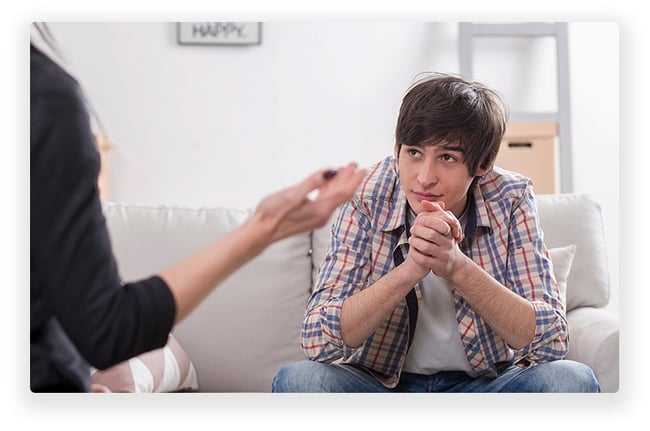 Minimize Suicidality of Teenagers
Suicide rates for children and young adults aged 10-24 increased 60% from 2007 to 2018 (Source: Centers for Disease Control). Proem assessments help detect suicidal intentions early so providers can intervene and get children the help they need.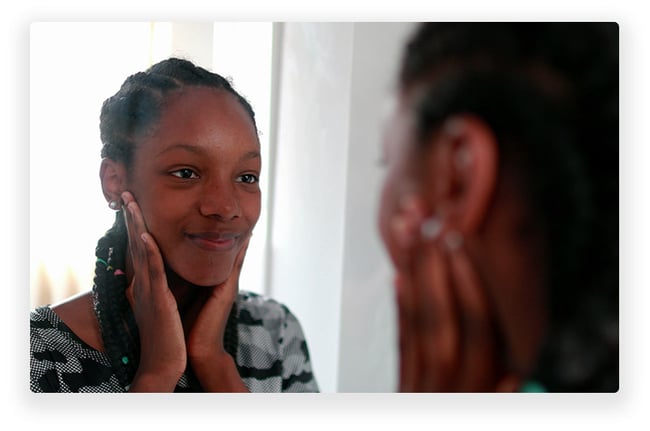 Identify Co-Occurring Disorders
Many mental disorders like body dysmorphic disorder and binge eating co-occur in young people, increasing their risk of suicide. Proem solutions include BDD-YBOCS scale for body dysmorphia and multiple other scales to identify co-occurring mental health disorders.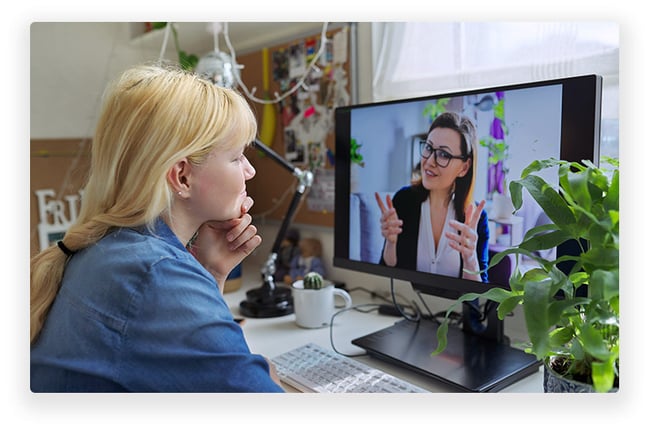 Obtain a 360° View of Patient's Mental Health
Proem allows the pediatrician to get a 360 view of the patient by getting kids and their parents to complete the online assessments with ease. Pediatricians can then compare the perspectives of the child's wellbeing to make the most informed decisions.
How It Works
Easing the Pain of Mental Illness One Step at a Time
1 Quickly Identify Multiple Mental Health Conditions
Proem digital screeners can be completed in just three minutes before an appointment at the patient's convenience or in a care setting based on preferred workflow. The screeners help quickly and accurately identify people who need further evaluation, catching mental illness and identifying comorbidities early on.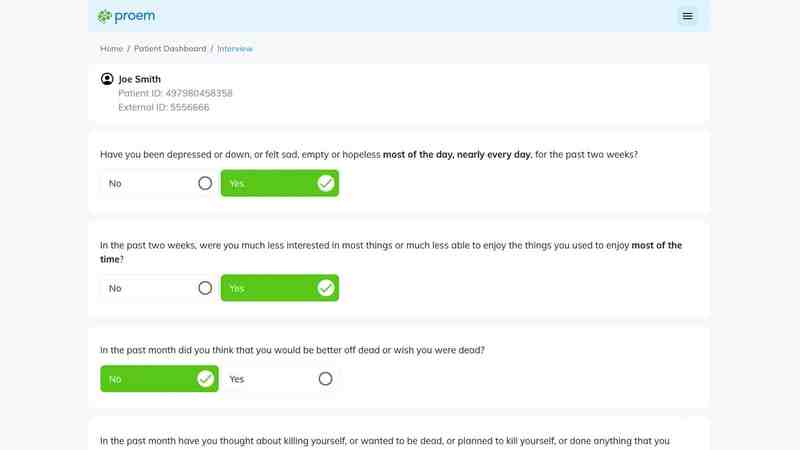 2 Make the Right Diagnosis the First Time
Proem provides the world's leading, clinically validated, structured assessment interviews in digital format exclusively licensed from the top psychiatric professionals in behavioral health. Proem structured interviews are used by researchers and healthcare providers to make fast and accurate diagnoses so their patients get on the path to wellness more quickly.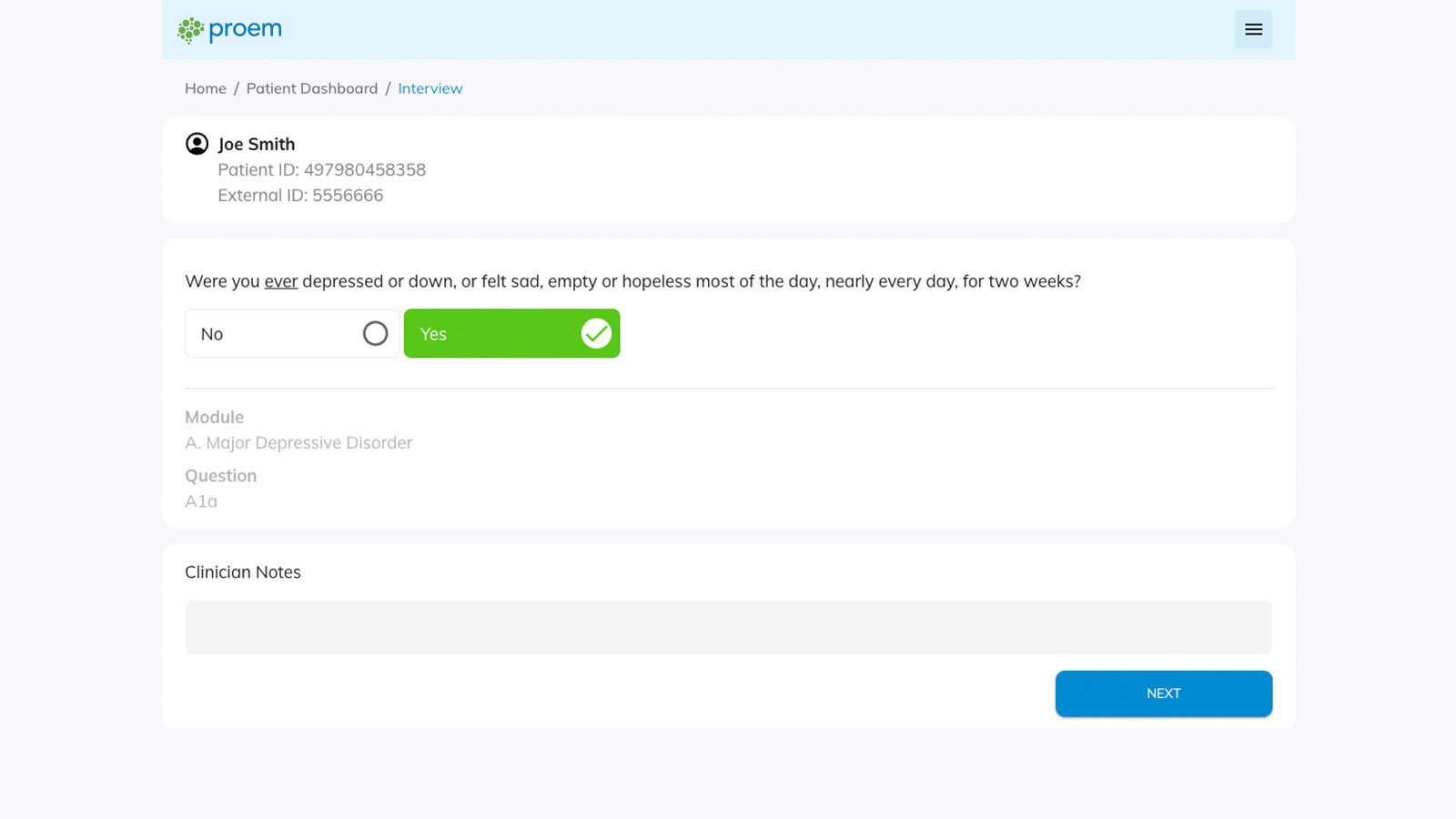 3 Direct Patients to the Resources they Need
Once a provider makes a diagnosis, knowing what to do next with a patient can be challenging. Proem's proprietary clinical follow-up technology takes the guesswork out by suggesting activities as defined by providers that a patient can complete as part of treatment, such as online cognitive behavioral therapy, educational content or regularly timed symptom and severity measurement surveys.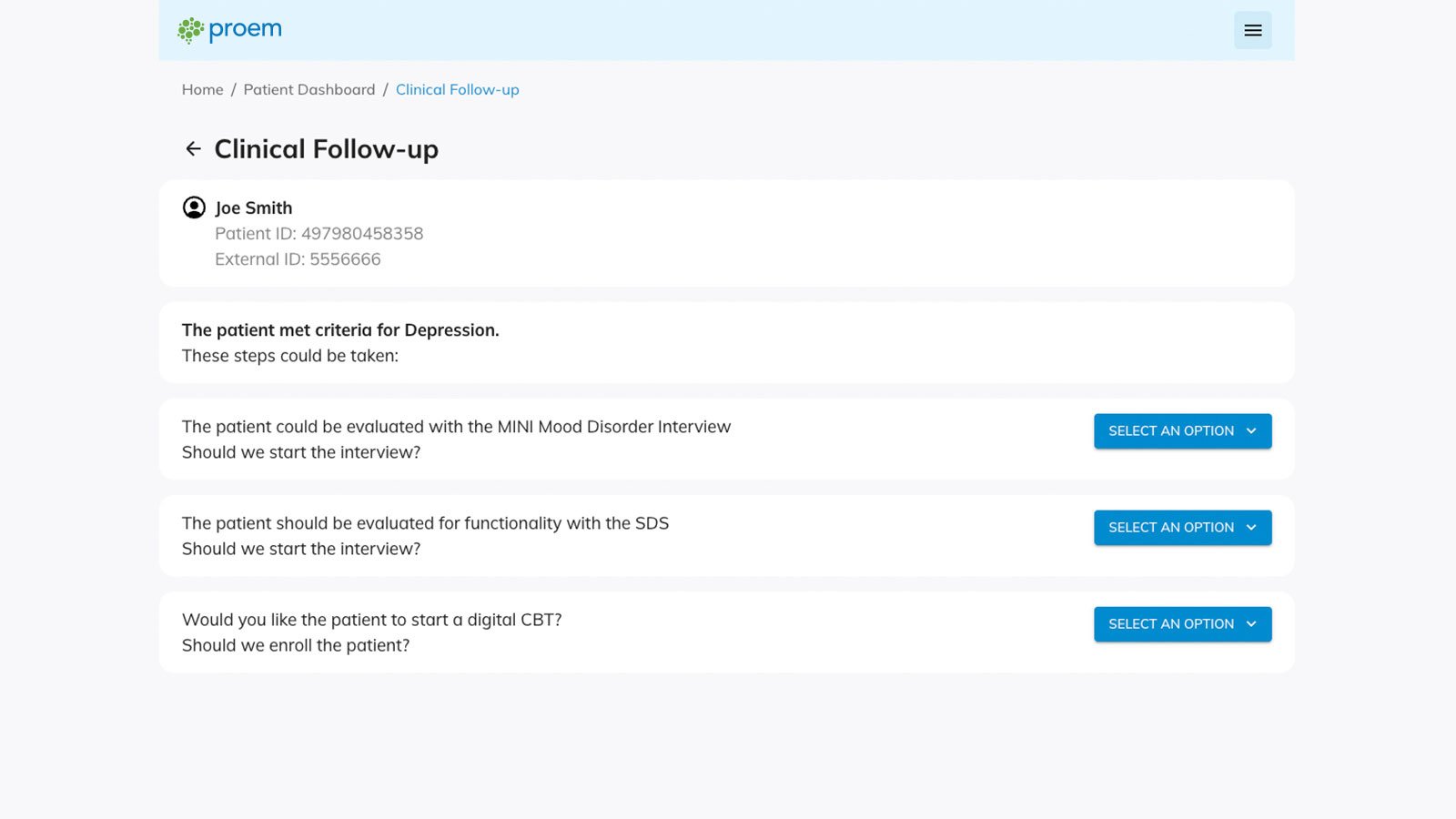 4 Track Patient Progress and Improvement in Function
With Proem monitors and severity measurement scales, providers and researchers can gather structured patient data on a daily, weekly or monthly basis. This data is used to check the status of symptoms and assess the impact on a patient's ability to function at work, school and life, enabling proactive treatment changes and measurement-based care.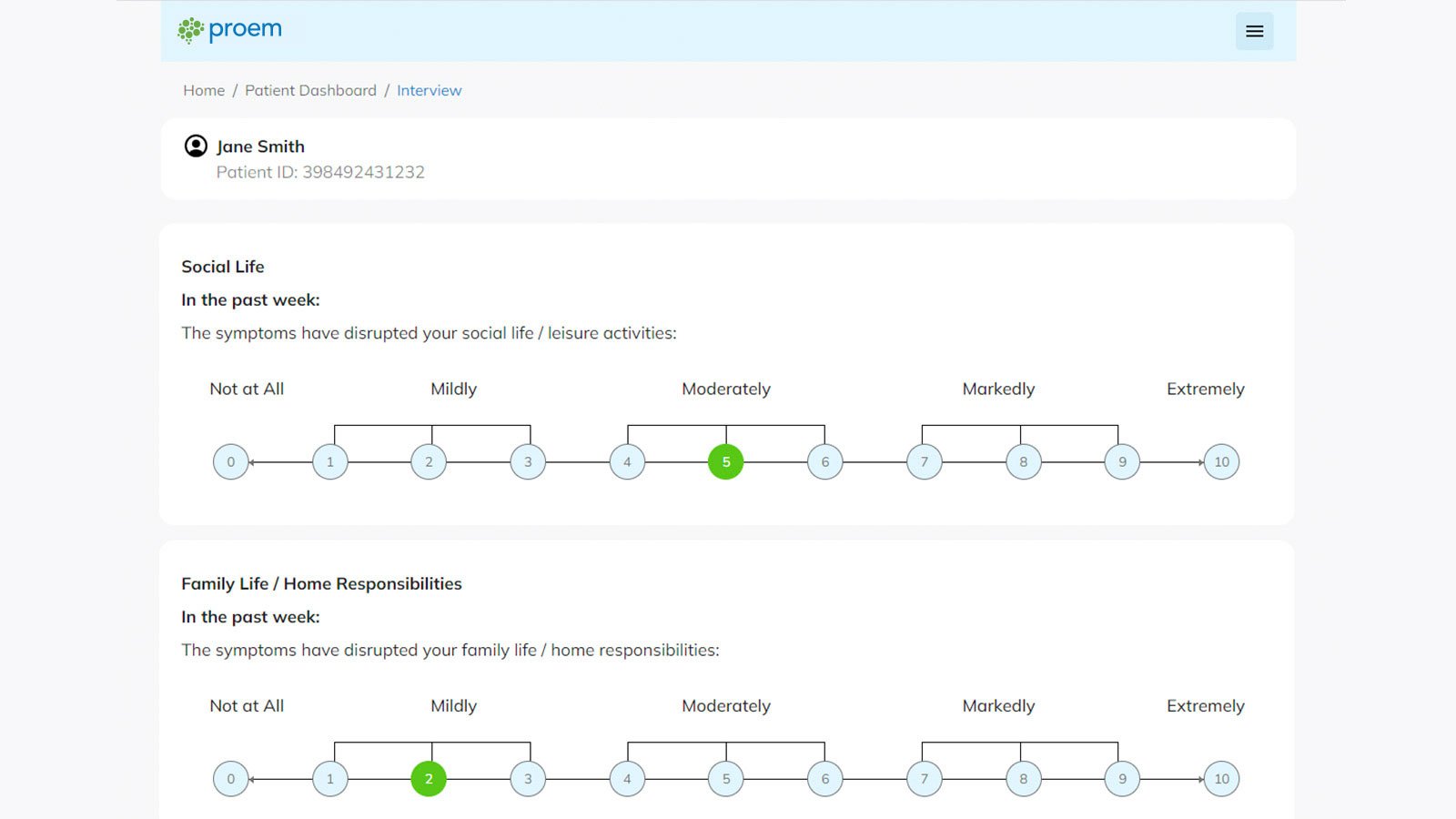 How We're Different
Helping Treat Mental Illness Equally in Children
When it comes to childhood development, physical health is heavily measured, monitored and nurtured. Proem makes it easy to do the same with mental health.
Gold-standard measurements and scales fit within the pediatrician's workflow.

Multi-dimensional screeners and assessments go beyond depression and anxiety to uncover co-occurring conditions.

Outcome and severity measurement tools help pediatric care providers adjust therapies that aren't working or continue those that are working.

Data collected at every step provides documentation needed for reimbursement of mental health services provided.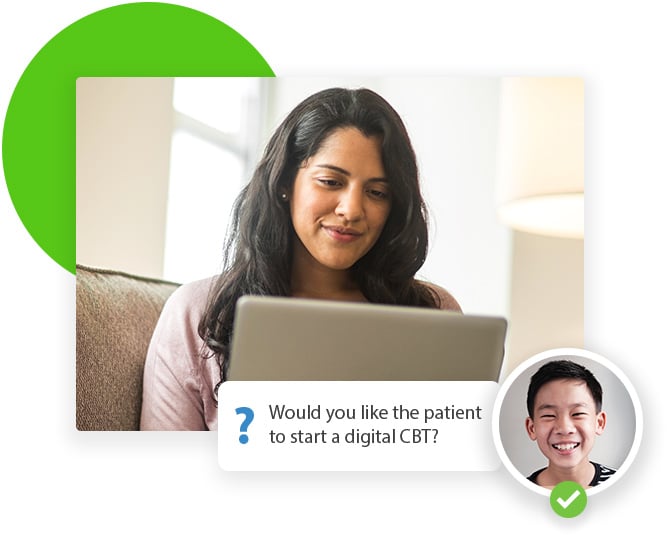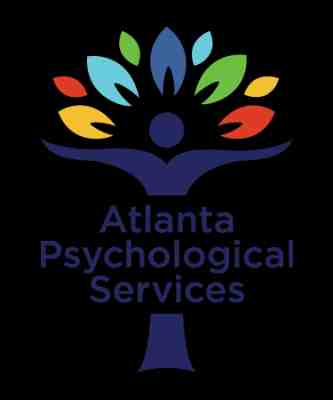 Dr. George uses the Proem assessment for children and adolescents to assess complex cases that are often referred to him from area primary care physicians, therapists, and psychiatrists. Prior to using Proem's electronic assessment, Dr. George used a series of self-developed, pen-and-paper checklists and tools as part of his evaluations.

Study: Partners in Caring for Anxious Youth, funded by Patient Center Outcomes Research Institute.
The study is a clinical trial comparing the effectiveness of evidence-based treatments for child and adolescent anxiety. The study compares the use of cognitive behavioral therapy (CBT) alone to CBT plus medication treatment to see which is more effective at achieving anxiety symptom remission and functional improvement at 6 and 12 months. Proem assessments are being used to eliminate bias when selecting patients for the study.

Study: The Australian Child Maltreatment Study.
This study uses data gathered from Proem assessments to study 8,500 Australians who experienced child abuse and neglect in their childhood and adolescence to examine associations with a wide range of physical and mental health outcomes. The study is one of the most comprehensive studies on child maltreatment ever conducted and is intended to inform policy and practice reforms to reduce child abuse and neglect in Australia.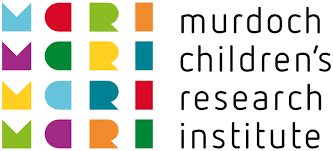 Study: The Childhood to Adolescence Transition Study.
This study uses the Proem child assessment to gather data for a longitudinal study of children as they move into high school and through adolescence to understand the many influences on the health and emotional adjustment of children as they approach their teens. This is the first study in Melbourne to look at a population sample of children with this focus.
Featured Resources
Helpful Content for Evaluation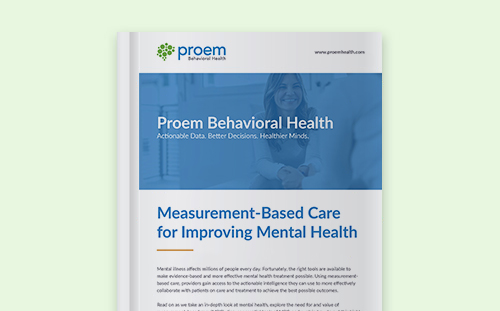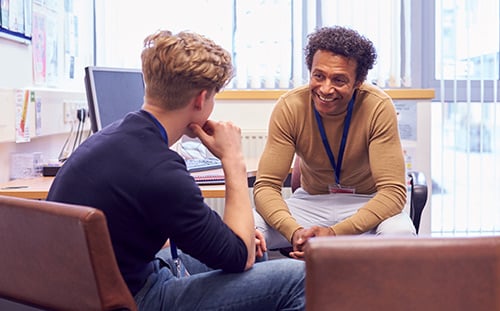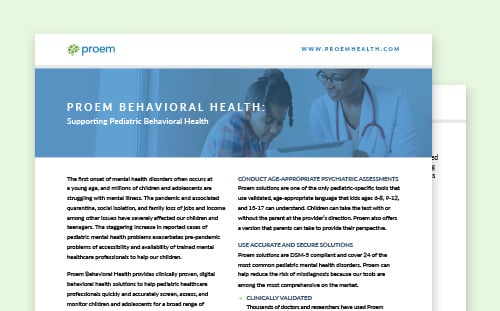 Help Your Patients on the Path to Mental Wellness
Proem solutions can help your organization uncover mental illness early so your patients can live their best lives through childhood, adolescence, and into adulthood.